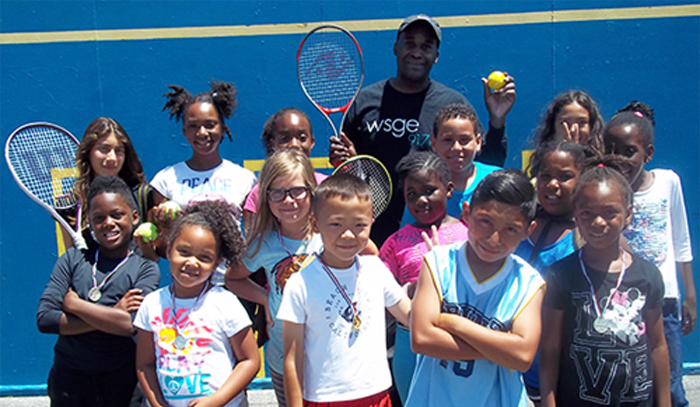 NPR affiliate WSGE 91.7FM Charlotte's morning personality, assistant program director/music director & film writer/director Tim Greene kicked off the New Year with his 25 cities "Every Hood Has A Hero" educational and motivational diversity tour. "Many families need help throughout the year and not just on holidays" says Greene.
My "Every Hood Has A Hero" tour spotlights the hero in every local hood that people can see, touch and talk to. We then give a positive spotlight to the kids in that hood who have great school attendance and get good grades as well, but may not have the finances to afford a computer or other educational products to help motivate them to a higher level in their young life before any negative peer pressure kicks in. To date I have managed to support families in need with over 400 laptop computers. To help get kids active I have given out over 50 tennis rackets, 45 bicycles, 100 golf clubs, 25 TV sets and the new kid friendly laptops that I give out will talk and teach a kid how to speak Spanish, English and French.
To get kids interested in golf I hold up a 100 dollar bill and tell them that if any kid gets a hole in one they will get to take home the cash right on the spot. I have been fortunate to do these multi city tours without any sponsors. I cover all of the costs of the tours myself because I believe that if you are going to help people in need either you are going to talk about it or just do it. So far this year the tour has hit major markets such as: New York City, Los Angeles, San Francisco, Atlanta, Miami, Detroit, Washington, DC and Philadelphia. Tim Greene's tour will hit tons of other medium and small markets over the next few months.