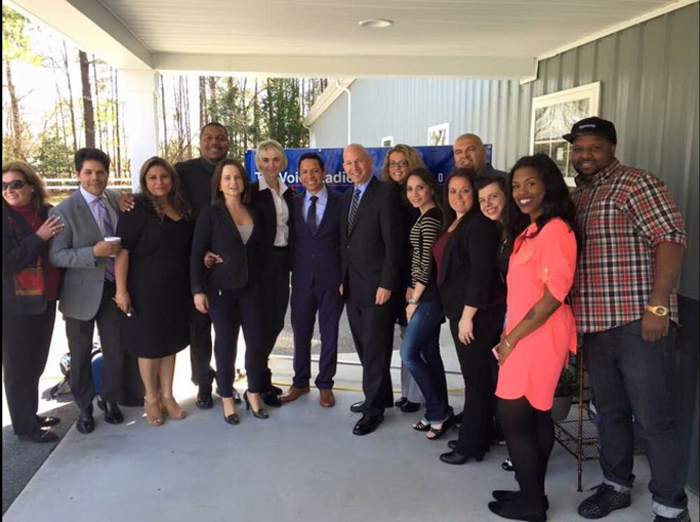 At its ribbon cutting on April 6, which attracted dignitaries from across Delaware, The Voice Radio Network celebrated much more than the renovation of its new facilities.
State officials congratulated Kevin Andrade on a 13-year trajectory that took him from being a recent immigrant from Ecuador to a vocal community leader, and now president of Delmarva's new network of local radio stations. Since buying the stations previously owned by Great Scott Broadcasting in February 2015, Andrade has successfully built a radio group of six frequencies, a staff of more than 30 employees, and successful on-air programming for a wildly diverse listenership across Delmarva.
"We're here to congratulate Kevin for being such a force, not only for the Latino community, but also for the economy of the area with the jobs that he has created and the hope he has given others that they too can live out the American dream," said Gov. Jack Markell.
Sue Dalton, who was general manager at Great Scott Broadcasting when Andrade first contacted them about taking over a station, also spoke of his undeniable determination and passion for high-quality radio programming.
She said Mitchell Scott, the late chief executive of Great Scott Broadcasting who passed away in March 2013, would have been proud of The Voice Radio Network's beautiful studio, top-tier stations and deep dedication to the community.
"He is looking down smiling at those things . . . [because] Kevin was able to take something that was already good and make it even better," Dalton said.
More than 100 people attended the ribbon cutting, including Delaware Department of Transportation Secretary Jennifer Cohan, Sen. Ernie Lopez, Sen. Bryan Townsend, State Rep. Ruth Briggs-King and State Rep. David Wilson. Based in Georgetown, the group's engaging programming has attracted a broad listenership from Central Delaware to the Eastern Shore of Virginia in just over one year of broadcasting.
Andrade, who has been a radio personality for more than 25 years, said he's known since he first arrived in Southern Delaware that he could make difference in the region filled with welcoming people. Today his business plan for The Voice Radio Network takes to heart the good of the community, and is committed to helping the region grow economically and culturally.
"Every day, we set out to broadcast local, live shows that speak to the interests of our listeners, hosted by local personalities who take phone calls and respond to the audience," he said. "That is what radio is supposed to sound like!"
Andrade also recognizes that the health of the community is dependent on the success of its small businesses. Business owners praise his dedication.
"Kevin truly cares about my business and changes my opportunities to drive traffic through his products based on our needs. Kevin and his team bring an enthusiasm and pride in their stations that is rarely seen in our business," said Chris Hagel, marketing director at Pohanka of Salisbury, Maryland.
That same community-minded philosophy drives the group's management to actively support nonprofit organizations. Andrade, who sits on the board of La Esperanza community center in Georgetown, organized radiothons that have helped raise more than $256,000 in the past three years. His team is now planning a radiothon at Atlantic General Hospital.
In a short time, the stations have received widespread support. Power 101.7 FM-WZEB, which features urban contemporary music, has rapidly become one of the most listened-to stations in the area. Classic rock stations The Vault 103.5 FM-WJKI and 106.1 FM-WXSH have also attracted large audiences, catering to the slightly older listener.
Recognizing the potential to address Delmarva's significant Hispanic population, The Voice's Maxima 95.3 FM-WKDB reaches 95 percent of Delmarva's Latino community and La Raza 900 AM and 100.3 FM cater to Latinos of Mexican heritage.
"Our goal is to root ourselves in the communities where we broadcast. We want to be a model for local radio done right," he said.
CAPTIONS
Andrade: The Voice Radio Network President Kevin Andrade and Delaware Gov. Jack Markell speak prior to the ribbon cutting ceremony.
Group 1: L-R: Rep. Ruth Briggs-King, Delaware Department of Transportation Secretary Jennifer Cohan, State Rep. David Wilson, Sen. Bryan Townsend, Sen. Ernie Lopez, The Voice Radio Network President Kevin Andrade, Georgetown Mayor Bill West and Georgetown Chamber Executive Director Karen Duffield.
Staff: L-R: Vicki Shrier, Andreah Savenyuk, Eunice Yanez-Herrera, James Smith, Erin Wood, Anya Trapnell, Kevin Andrade, Gov. Jack Markell, Briana Mattern, Jessica Martinez, Bill Baker, Tracy Baker, Deelite, Kola Legend and Lonnie Legend.