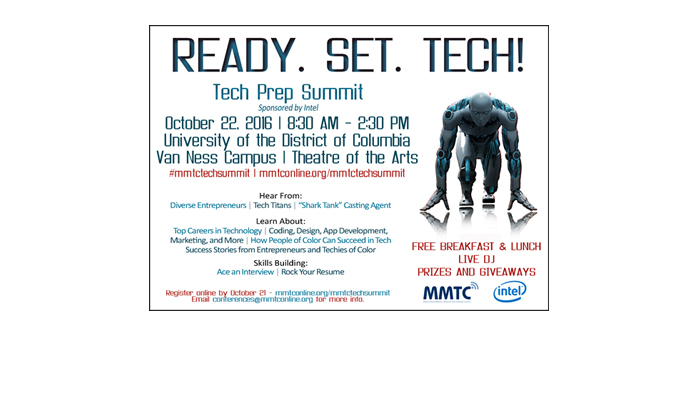 On October 22, 2016, the Multicultural Media, Telecom and Internet Council (MMTC) is holding its first ever Tech Prep Summit, to introduce students of color to the world of opportunities in technology and tech-related fields.
Register and help spread the word!
This free event, sponsored by Intel, includes music, interactive demonstrations, giveaways and prizes, and breakfast and lunch to keep students energized and engaged.
Through the Tech Prep Summit, MMTC seeks to help bridge the diversity gap in tech employment and entrepreneurship by inspiring the many students of color who demonstrate interest in technology but struggle to see themselves studying, working, or starting a business in related fields.
The Summit will feature keynote talks and hands-on demonstrations with recognized innovators and representatives from major tech companies and startups.
Tech Prep Summit
Saturday, October 22, 2016 | 8:30 AM – 2:30 PM
University of the District of Columbia Van Ness Campus Theatere of the Arts
4200 Connecticut Avenue & Windom Place NW Washington, DC 20008
More information can be found on our Tech Prep Summit website:http://www.mmtconline.org/techprepsummit. Students must be over age 18 and register to attend.
Please share this information with your friends and colleagues.
If you are interested in speaking, partnering with MMTC, or sponsoring the event, please contact conferences@mmtconline.org.