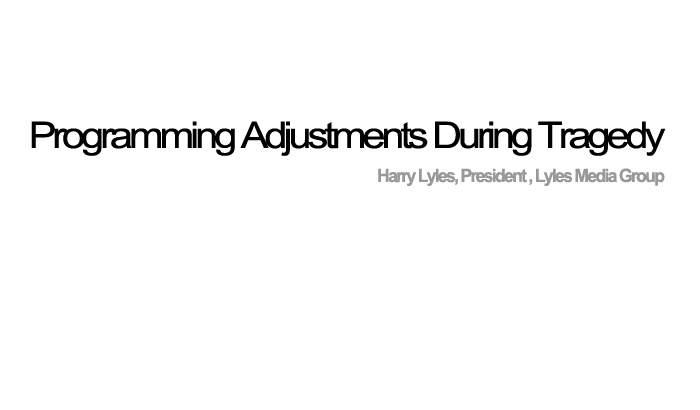 Harry Lyles, President of the Lyles Media Group:
Tragedy of any kind can always be handled the right way in our local communities. At LMG we tell our client stations that it starts with an in-house conversation to give the local communities a voice.
It's about understanding each other and having that open, honest conversation. We all should seek an understanding in situations when it comes to our local communities. The local communities need someone to put an arm around them in times of tragedy. It's our job.
Today in urban radio a lot of managers and management do not trust their staff members, jocks, even managers to make public comments. There's the risk of defamation, there's the concerns about the FCC, although those concerns are usually very much overblown. Some companies are afraid to take the risk, and as we know when this happens, the black communities are left underserved as a result.
One example would be what happened in Charleston, SC. How can you not talk about the Emanuel AME Church at the time of the killings?  By not talking about, it appears to the listener as if no one is listening at these stations, and that the station doesn't care, or they are simply irrelevant to the black community.
In general, one would think that the stations would want to keep the conversation going by ensuring that all points of view had an airing, the local politicians, the clergy, activist groups, and most important local listeners.  It would be good to use real commentary from real people out there who are affected or impacted by the stress of these current events. Until all of us have a real conversation, this is not going away anytime soon, but radio must play a role.
I don't pretend to have all the answers, because I don't have all the answers. One thing is for sure—being silent or invisible is not what the local communities in urban markets want, and it's not what they need.