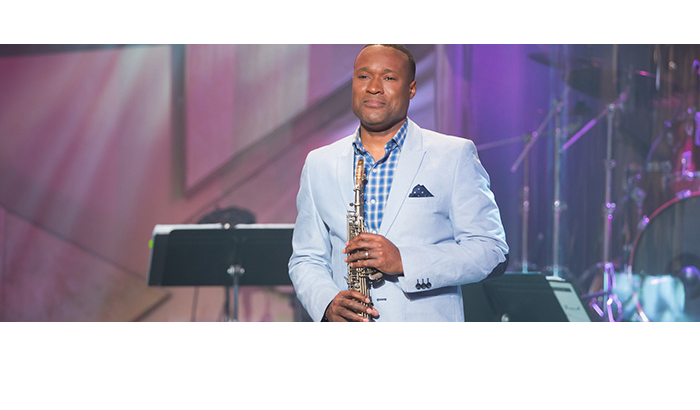 Renowned inspirational saxophonist Merlon Devine just inked a record deal with new record label Jonre Music Group.  Known for his spirited instrumental performances and appearances at the Potter's House, Daystar and TBN, Merlon Devine became Jonre Music Group's first official artist.  Hot off the Top 30 on the Billboard Smooth Jazz Chart, Devine is putting the finishing touches on a brand new release; the new CD will be his first with the new inspirational record label.
Lyn Johnson, CEO and Founder of Jonre Music Group, is thrilled to have Devine on her artist roster.  "Merlon, will be the face and cornerstone of Jonre," shares Johnson. "His excellence in music ministry and his amazing spirit are two things that really stand out to me.  When Richard T. Davis, VP of Label Operations and Director of A&R for Jonre mentioned him to me, I knew he would be a great artist to have on our label. His dedication and drive for excellence will be the key to his success and longevity."
A brand new record label, located in the Nation's Capital, Jonre Music Group's mission is to expose the ministries of Christian and Gospel instrumentalists, mimes and comedians.  Jonre's goal is to tap into aspects of the Christian entertainment industry that are underserved.
A premiere saxophonist, Merlon has presented a number of recordings to the music world.  Previously, he recorded five other CDs including Due Season, Breathe, Unwrap the Gift and Set the Atmosphere: Volume 1. To connect with Jonre Music Group, log on to their Facebook, Twitter (@TherealJMG) and Instagram (@JonreMusicGroup) pages.  The label can be reached by phone at 703.798.7079.  Artists interested in auditioning or finding out about the submission process should contact Richard T. Davis at rdavisjonreAR@gmail.com.