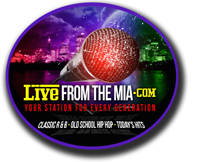 On Amazon Prime Day 2017 Lorenzo Ice-Tea Thomas announced the launch of is Digital Radio Station on Echo Dot. LivefromtheMia.com is the first Digital/Internet radio station to broadcast on Alexa.
Lorenzo says "Well, there's a method to my madness. Streaming is taking over, and people want easy assess to their music. Now, it is so easy to listen to the Live from the Mia. If you have Echo dot, just say "Alexa, open Live M.I.A. Radio" or "Alexa, play Live M.I.A. Radio," and BOOM you can hear the to the station! Also, you can access the station by way of the website www.LivefromtheMia.com which ranks among the Top 200k websites in the US in just three months
Lorenzo's outgoing infectious personality takes viewers inside access to red carpets, behind velvet ropes to one on one interviews with celebrities from every aspect of the entertainment landscape. Over the years Lorenzo has interviewed a vast array of international luminaries and pop culture icons such as Jay-Z and Beyoncé', sports legend Lebron James and Ray Lewis and former President Barack Obama and  First Lady Michelle Obama.
Lorenzo is a proud alumnus of the Miami Film School and a SAG/AFTRA actor who has appeared in a variety of films, commercials, and industrial corporate videos. Lorenzo resume includes a nation AT&T television commercial which aired for three years and also he will appear in the upcoming film Couples Night this year. In addition to Celebrity Page TV, Lorenzo hosts a daily international radio show on Live from the Mia.com which he launched in 2015.