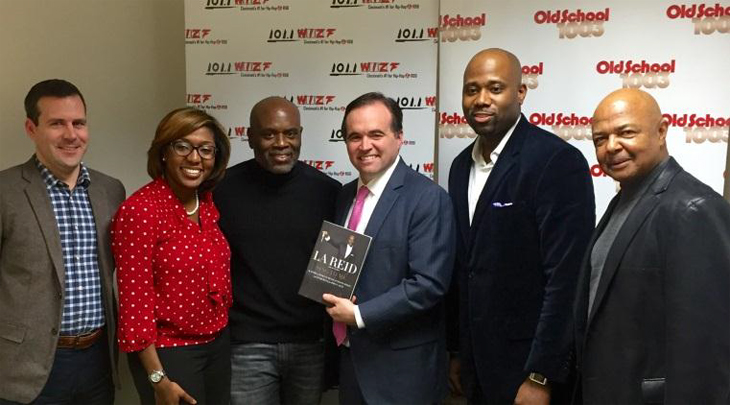 To celebrate the accomplishments and storied career of L.A. Reid, the record executive, musician, and former X Factor host was honored with a key to the city by the Mayor of Cincinnati and Radio One staff.
Reid—a Cincinnati native—made his name producing multi-platinum artists like Rihanna, Kanye West, Outkast, TLC, Justin Bieber, Rick Ross and Mariah Carey. He achieved industry success as CEO of Island Def Jam Music group, and later Epic Records, but he was catapulted into the public spotlight during a stint as judge on FOX's The X Factor.
Reid was awarded the key to the city by Cincinnati Mayor, John Cranley. After declaring February 5th, 2016, "L.A. Reid Day", Cranley said, "I want to thank [Reid] for being such a great ambassador for Cincinnati." The man who spearheaded the push to present this honor to Reid was Radio One mainstay, Lincoln Ware. Ware stated, "I didn't think L.A. would remember me from our brief meeting many years ago—especially after all the mega-stars he's met—but he recognized me and greeted me like an old friend. This is a man who has touched the stars and remained humble." Station Manager, Mitch Galvin, added, "It's an honor to have L.A. Reid in the building and we're thrilled we could be part of L.A. Reid Day."
"I love Cincinnati, it's great to be home… [it] has been such a great supporter of everything that I've done," Reid commented, "the people at home give you the muscle to succeed."
Reid is currently on tour promoting his book, Sing to Me: My Story of Making Music, Finding Magic, and Searching for Who's Next, available in bookstores now.
Pictured above from left to right: RO Station Manager Mitch Galvin, Cincinnati President Pro Tem Yvette Simpson, L.A. Reid, Cincinnati Mayor John Cranley, RO Operations Manager Kenard Karter, RO On-Air Personality Lincoln Ware.