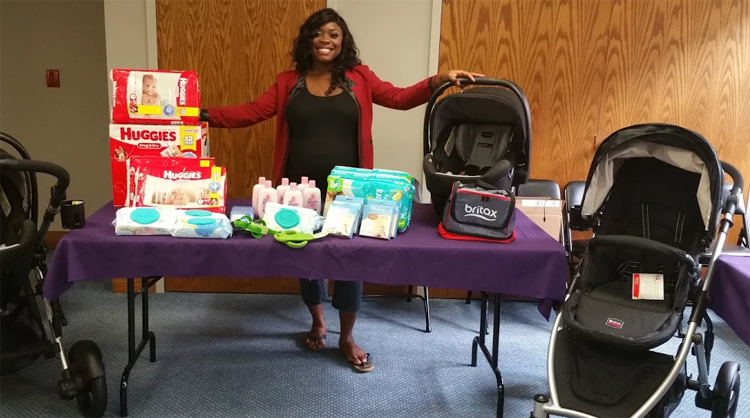 On September 10, 2016, WPEG Power 98 FM Radio Personality Adrien "Vonyetta" Watson hosted a Charity Baby Shower for at-risk adolescent residents at Florence Crittenton Services located at 1300 Blythe Blvd. The baby shower was one that left all involved feeling humbled, appreciated and honored to give back to those that are in need. Power 98 FM Radio Station was very supportive of the personalities' charity efforts and launched an on-air campaign to engage and involve its listeners.
During the charity baby shower, Radio Host Vonyetta was able to meet the residents of Florence Crittenton Services, talk to them at length and build bonds with each of the young ladies. The shower planned and executed by Motivation Marketing Firm and was completely decorated by Events with You in Mind, with services and gift bags for the moms being donated by business owner Shannon Edmond. Each attendee ate lunch complete with Pan seared chicken, Salad, bow-tie lemon parmesan pasta, vegetable medley and "babyshower strawberry"punch was catered buffet style sponsored by Chef Tamara Dunham of Speakeasy Culinary. No baby shower event is ever complete without dessert and Lacrisha Thomas of Couture Cupcakes donated and delivered handmade cupcakes complete with baby decorations on each cupcake. Some were in boxes for the young ladies to transport back to their rooms as necessary. Many other small businesses and individuals donated baby items such as diapers, baby wipes, cups and more for the babies. National leading child safety technology company, Britax donated travel systems to the facility for its residents valued at over $15,000!
"Being pregnant and all that entails emotionally can be tough to deal with. Also preparation for a new blessing can be overwhelming as well mentally and financially. Doing this event allowed me to be able to give back and help with items to alleviate both of those things, even if it was just for a moment. Thanks to all of the sponsors and supporters. Especially Britax for donating all the travel systems they did. It was greatly appreciated" states Vonyetta when asked why she chose to host the charity baby shower.