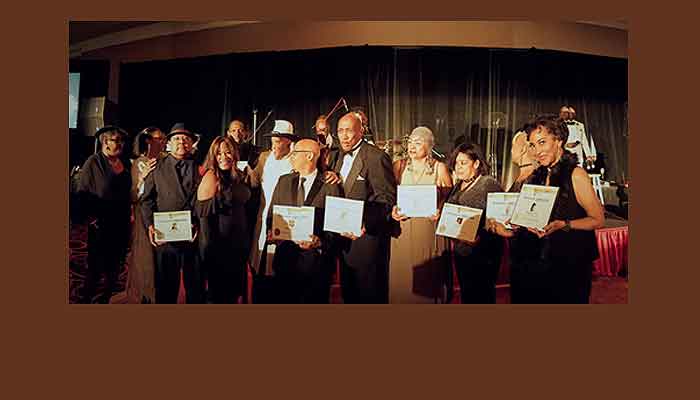 This past Saturday, at Back Stage Atlanta Club Owner and Manager of Frankie Beverly and Maze Joe Douglas was honored for all of the support he has given to the NBPC – National Broadcasting Professionals Coalition of Radio.
Other honorees included in the elaborate line up were Tori Bailey – WZZA Tuscumbia, Alabama; Carol Blackmon formerly of V-103 Mike and Carol in the Morning Show and present Ga Lottery Host; Shirley Harris-Ellis Ft. Valley State Univ. Radio and V101.7 Macon; Requaya Ward WRFG Atlanta, Ted Astin formerly of Warner Bros. Records, TLA Real Estate, Big George formerly WIBB Macon, Mitch Faulkner Kiss 104.1 Atlanta, Kevin Foxx Memphis, Tenn., Charles Mitchell formerly of Kiss 104, presently owner of 1015thevibe internet station; and Si-Man Personality Host with Chubb Rock of 107.5 former video editor at WXIA TV and also works with Coleman Realty.
The event was hosted by radio announcer and UniverSol Ring Master Casual Cal Dupree, Scientist and Motivational Speaker Kantis Simmons and Felesha Love of 1015thevibe internet radio station.
The awardees were joined by their family members, friends and Radio Promotions member Christine Cunningham and former Arbitron  Consultant Julian Davis.
The event was held at the 13th annual Howey, Hudson, Lowe Foundation Stompin' At The Savoy Scholarship Fund Raiser at the Ramada Capitol downtown Atlanta.  The night was filled with entertainment from the Musical Interlude by J. Latoy, Delores Major, Jazz Funk Violinist; The Beulah Boys Male Steppers, Melvin Miller & Jazz Collective Band, Vocalist Nat George, Arthur Turner on Keyboards; North 2unes Woodall, Guitar Legend; Fabian Muzik R&B Vocalist; and a final treat was the annual Best Creative Dress Contest.
This slideshow requires JavaScript.
Thanks to Radiolady for sharing this NBPC story.
---
Got New? Email us: webmaster@urbaninsite.com.