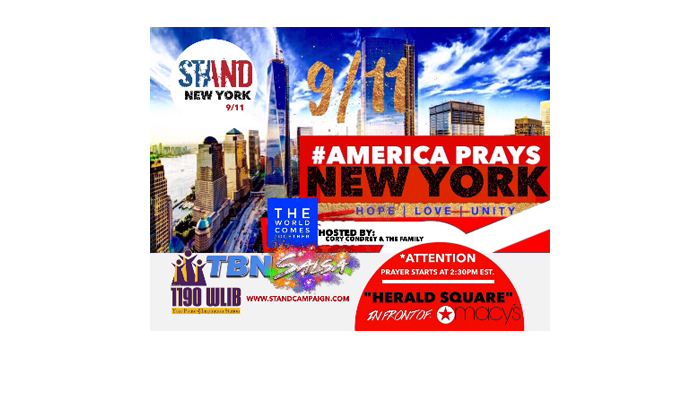 Syndicated radio host Cory "Coco Brother" Condrey will lead #Stand Up NYC with local radio Sunday (9/11). Cory Condrey has assembled a team of gifted artists, performing under the banner of STAND, to create #America (Tyscot Records, LLC) a message of hope. This new compilation of hip hop, R&B and inspirational music, featuring Grammy nominated artist Joann Rosario-Condrey and Da' T.R.U.T.H., will serve as the musical backdrop for the event – STAND 9/11.
"Our 9/11 heroes gave their lives with no consideration of skin color, black lives matter, or blue lives matter because We All Matter!…Jesus Matters!," Condrey declares. "The Church must STOP being quiet and afraid! We simply must unify again to Stand for America."
Skip Dillard, Operations Manager/Program Director for WBLS/WLIB, understands the need for prayer on 9/11 and will address ALL of New York as the world looks on: "On a day that reminds us how fragile we are, there's no better time to come together in prayer, while honoring the memories of those who gave their lives in service to others." Coco Brother Presents the Weekend, which is syndicated by Radio Condrey, airs on WLIB on Saturdays 6-8pm.