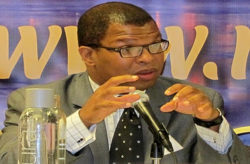 "The 2017 NABOB Fall Conference and Power of Urban Radio Forum brought together 300 radio station owners, industry leaders, agency execs and national advertising executives on October 11th and 12th. Urban Radio's leaders in small, medium and major markets came away recharged and refocused about their mission and the effectiveness of Urban Radio," states Sherman Kizart, Managing Director of Kizart Media Partners, organizers of the Power of Urban Radio Forum.
The successful event was in Washington, D.C. at the Marriott Georgetown Hotel and revealed to attendees how to connect with the $1 Trillion African American Consumer Market. Major General Christopher P. Hughes, Commanding General of the U.S. Army Cadet Command (ROTC) delivered the keynote address. He focused on how his partnership with Black Radio will help the U.S. Army achieve its goal of growing African American officers from 12 % to 16%.
Erica Farber, CEO of the Radio Advertising Bureau, moderated a discussion of the five leading African American Advertising Agencies. McGhee Williams-Osse, Co-CEO of Burrell Communications Group, asked Urban Radio to provide agencies with more case study successes. She stated that such information could lead to more media dollars flowing to Urban Radio.
Edna Kane-Williams, SVP for Multicultural Marketing at AARP, plus senior marketing executives from Toyota, and the U.S. Army Marketing and Research Group, spoke about Urban Radio's effectiveness. Ms. Williams stated that Urban Radio is the Number 2 media vehicle for AARP. She also expressed positive remarks about Urban Radio's strong relationship with the community. She stated additionally that Urban Radio is effective experientially for AARP.