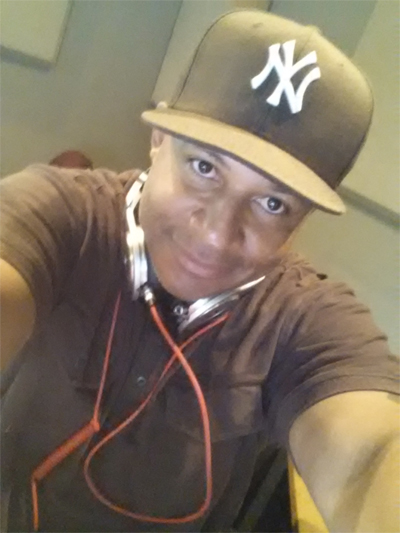 JoJo McToy
jmctoy@hotmail.com
Atlanta, GA (470) 875-7296
PROFESSIONAL PROFILE

To maintain a career in broadcasting and entertainment. Seeking a position that utilizes my over decade of relative skills as a Radio Program Director, Radio Show Host, On Air Personality and Public/Sports Announcer.
PROFESSIONAL STRENGTHS
Bilingual – Spanish Mentor
Master of Ceremonies Community Relations
Public Address Announcing Private Party and Professional Event D.J
Commercial Script Writing Yearly Broadcast Certificated
Award Winning Air Personality In "All Drives" PSA and Commercial Voice Over's
PROFESSIONAL EXPERIENCE
Auburn University – Auburn, AL
Men's Basketball Arena P.A. Announcer / Game Host & DJ / Baseball Arena P.A. Announcer August 2014 – Present
Selected as the first official in arena DJ
Responsible for public address announcements and in game contest
Responsible for execution of in game contest
The Alabama State University – Montgomery, AL
Arena P.A. Announcer October 2008 – Present
Responsible for the sports arena announcements, stats and promotions
Announcer for football, volleyball, softball and both men's and women's basketball
Official announcer for the national award winning Alabama State University Mighty Marching Hornets Marching Band
Announcer at the nationally broadcasted annual battle of the bands
Sat on the Alabama Music Conference Radio panel as a judge
Judged 6-8 dance teams at the "Divas" dance competition
Announcer at the Statewide Divine 9 Greek Step Show
IHEARTMEDIA, Inc. – Montgomery, AL
Hot 105.7 FM – Radio Personality July 2007 – January 2016
Known in the radio industry as "The Bad Boy JoJo McToy". AKA "The States #1 Party Rocker"
Afternoon Jump-Off host / Morning Drive host / Afternoon Drive host / Mix Show Coordinator
Three years as #1 Drive in ratings
P18-34 #1 with a 20.0 down from a SP14 23.6 and up from FA13 14.8.
W18-34 #1 with an 18.3 down from a SP14 31.4 and up from FA13 15.4.
P25-54 #1 with a 12.4 up from a SP14 11.4 and up from FA13 7.5
Voicing commercials, PSA's and conducted live remotes for the surrounding areas of Montgomery, AL and Birmingham, AL
Conducted on air and face to face interviews with A list music an acting celebrities
Personal inducements from Montgomery, Alabama area AT&T, Jack Ingram Nissan car dealership, Charter Communications Cable Company and Metro PCS
Florida Agricultural and Mechanical University – Tallahassee, FL
Arena P.A. Announcer for Softball and Men's and Women's Basketball
October 2002 – October 2006
Responsible for the sports arena announcements, stats and promotions
CLEAR Channel Media Holdings, Inc. – Tallahassee, FL
100.7 The Beat – Assistant Program Director July 2001- June 2007
Responsible for the afternoon programming, effective content. Afternoon Drive Host / live remotes/ appearances / Mix Show Producer
Responsible for assisting the day to day operations, including music and schedules of the on-air talent
Trained and managed five full-time employees on Selector Next Generations Systems, air check sessions, voice diction and phonetic script writing.
COMMUNITY AFFILATIONS
March 1995 – Phi Beta Sigma Fraternity Inc. – An international fraternity of Culture for Community Service and Service For Humanity
February 2010 – January 2016 Coach of The Lady Stars girls little league softball team 11-13years old
2015 Selected at Gentlemen Quarterly Magazine & BMW of Montgomery Man of Year for outstanding community service and outreach
February 2012- January 2016 Coach of The Lady Stars Adult (18+) Women's softball teams
2014 Alabama Broadcasters Association – Radio Personality and Voice Production of the year
2006 and 2014 Little League Coach of the Year Fain park, Montgomery youth girls softball
2013 Certificate of Appreciation from the Cleveland Avenue YMCA for volunteering as a coach for youth summer basketball, softball and volleyball
April 2012 Volunteer of the Month at Southlawn Middle School for their Reading across America programs 2011 Named Little League Volunteer of the year
2008 – 2011 Listed among the years community Movers and Shakers by Montgomery Spotlight Magazine
September 2008 Organized the Peterson Elementary School Career Day event in which over 25 professionals from various fields addressed the children on the importance of career choices
March 2009 – 2015 Co-organized the 6th Annual Hot 105.7 "Prom Dress Drive" in which over 1000 prom dresses are donated yearly and distributed to low income teens
2005 – Awarded as one of the Top 25 Distinguished Gentlemen by Upward Bound Youth Ministries
May 2004 – Volunteer of the Month – National Breast Cancer Women's Check Up Day at Bond Community Health Center
EDUCATION
The Alabama State University – BA, Communications (3.0 Baseball Student Athlete)
The Alabama State University – BA, English
Certified and proficient in Vox pro, Cool Edit Pro, Selector Next Generations Systems, Serato DJ, Virtual DJ and Pioneer CDJ's 800-2000