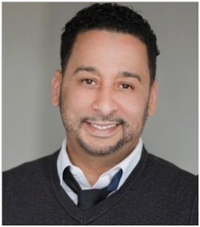 K104 Dallas has hired comedian Michael Shawn. He will be joining host De De McGuire, along with cast member Lady Jade, on The K104 Morning Show on KKDA-FM beginning Monday, December 10th.
De De commented, "I never knew someone with such small hands, could be so funny. Michael really gets it, and I can't wait to get into it with him and Jade, and show the power of a live, local, morning show."
Michael Shawn said, "I'm so happy to no longer be a part of the 7.8% unemployment rate. Now, let's shake up the world! This really is a phenomenal opportunity, and I'm already living, breathing, and sleeping, The K104 Morning Show."
In addition to his stand up comedy work, Michael Shawn's radio career includes mornings with Miss Jones at Hot 97 in New York, and 2 different stops in Philly when the station was called 100.3 The Beat.
De De McGuire's career includes stops in Chicago and Philadelphia and she's also currently the co-host on a syndicated afternoon show with Doug Banks.