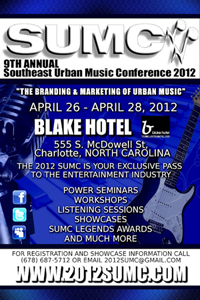 Eddie Pugh of God's Turn Records announced the release of Gospel/Christian/Rock band Sensere's new CD, "The Soul Of Future Worship Vol. 1" on the Wrightsound Entertainment, Inc. /God's Turn Record label. The album is available for purchase at iTunes, Amazon.com, Rhapsody and all digital outlets, while the debut single, "Got Jesus," can be seen on video at VH1.com, YouTube, and TV.com.
James Wright, founder and lead singer of Sensere said, "This CD is very different. It's something that has never been done before in gospel music – a mix of rock with 60's and 70's sounds along with gospel and soul in a way that's classy and unique. When we're ministering, people of all ages are up and moving to our music, both young and old are helping us to lift Christ up with the music He has given us."
Wright, who is a singer, songwriter, and vocalist, also arranges and plays drums, bass, and keyboards. Inspired by artists like Earth, Wind & Fire, Mint Condition, and Times 3 (his father's gospel group with whom he played for one year), he founded Sensere in Ft. Lauderdale in 2003. The group performed frequently and released their first CD, Senserely Yours," in 2007. He recruited an all new band in 2009, stating "My vision was to put everything on the line for Sensere, to touch as many lives and spirits as possible,to minister to people's minds and  hearts, and I needed a band that was willing to go all the way with me in  that endeavor. We're partners in this journey, and everyone has input.  Everyone is important. Everyone believes in what we're doing and has a heart for Jesus. This is not about fame, it's about hope and directing light to His people that He's entrusting to us through song."
"The Soul Of Future Worship Vol. 1" was recorded with live strings, bass, horns, and vocals. WildMayer Marcelin, Darrell Efford, and Glenn Eichelberger comprised the horn section, with  Timothy Wimberly on bass, Shoshi Gottesman on viola, and Samuel Hall on  violin. Singers Dwayne Charlton, Brian Williams, and Terrell Terry co-wrote the lyrics with Wright on most songs, while Wright wrote the music for the album.
Immediately after a stellar review of the album by Soul Tracks, Sensere received accolades from Paul Anderson of The Entertainment Bank. "If you enjoy top notch musicianship and off the hook vocals, you'll definitely be impressed by Sensere's new album. The group has an innovative sound that brings back memories of Earth, Wind & Fire combined with the soulful vocals of Motown, and Neo Soul. Sensere truly takes gospel to a whole new level with their unique brand, which is exceptional. Rich textures, jazzy Rhodes, and vocal and horn interplays with string accompaniments make this an album that overflows with freshness. It's excellent from start to finish, and is a perfect example of what can happen when truly talented musicians and vocalists press forth to use the talents  that God has given to them, and they give it back to Him and His people."
"The Soul Of Future Worship Vol. I" can be purchased at: Amazon.com:
http://tinyurl.com/86bzgje, iTunes: http://itunes.apple.com/us/album/start-all-over/id481705751?i=481705758&ign-mpt=uo%3D4, or Rhapsody:
http://www.rhapsody.com/artist/sensere/album/the-soul-of-future-worship-vol-1 .
View Sensere's new video, "Got Jesus" at:
MTV.com http://www.mtv.com/videos/sensere/683499/got-jesus.jhtml
VH1.com: http://www.vh1.com/video/sensere/683499/got-jesus.jhtml#artist=3165573
YouTube.com: http://www.youtube.com/watch?v=mnWjhktFemY&list=UUcrEeEEPq-QNNbZ_Y6sl0rw&feature=plcp
To learn more about Sensere, visit their official website at:
Contact:
Eddie Pugh
God's Turn Records
T: (954) 243-1684