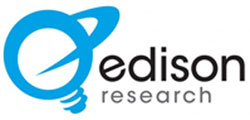 New Edison Research Study Reveals an At-Work Listening Environment Transformed Broadcast Radio Spotloads Present a Challenge in the Newly Competitive Environment; Radio Must Emphasize Strengths of Companionship, Information .
When America's workforce listens to audio on-the-job, they are listening to broadcast radio more than any other option. But less than half of them listen to any broadcast radio while working (vs. a third who say they consume Internet radio). And listening to any sort of radio at work has fallen in the last sixteen years. For many of those choosing not to listen to broadcast radio, the amount of commercials is a major issue. But information and companionship represent a strength that broadcasters may not be emphasizing.
Those are among the findings of "What's Working At Work," Edison Research's study of 1,043 adults 18+ who are employed either full- or part-time. The study, sponsored by Radionomy, was unveiled today at the NAB/RAB Radio Show in Orlando. "What's Working At Work" chronicles listening habits, device ownership, and the demographic makeup of the workforce.
"Since Edison conducted the first major study of at-work listening 16 years ago, the workplace has been completely transformed in every conceivable way," says Edison Research president Larry Rosin. "When we did our previous study of at-work radio listening in 1997, we didn't even ask about listening to radio online. Now, AM/FM Radio is in a much more competitive at-work media environment. Some of the new options that consumers have for audio have completely changed the notion of what constitutes an acceptable number of commercials. I hope this study leads to more urgent consideration of how broadcasters can keep revenues up while simultaneously reducing commercial time in each hour."
In 1997 only 16% of workers used the Internet as part of their jobs. Today that percentage is 73% — many of whom are likely using the Internet for audio — whether it be to broadcast station streams or pureplays. However, in 1997, 65% of all workers said that they listened to the radio at work. Now, only 49% of those employed listen to AM/FM Radio.
Of those who do not listen to broadcast radio at work, nearly a quarter say it is because "there are too many commercials on AM/FM radio." Of those who listen to Internet-only radio while working, 66% say that Internet radio plays fewer commercials than AM/FM radio, and 46% say Internet radio plays "a lot less" commercials.
The survey also addresses the long-debated issue of Internet radio's utility. There is evidence that online radio has indeed expanded the time spent with audio, as 22% of all Internet radio users say that their listening is 'new listening'. By comparison, 28% say that it is replacing time spent with their own music collection, and the other 50% of those who listen to any Internetonly radio while working say that it is mostly replacing the time they spend with AM/FM radio.
In other major findings:
The largest number of those listening to broadcast radio at work do so on a traditional over-theair radio (53%), but 41% listen via computer and 35% via smartphone.
Fully 72% of those who say they listen to Internet-only radio at work do so on a laptop, but 52% listen on smartphones. As those who observe younger workers might surmise, 54% of Internetonly radio listening at work is done over speakers, but 46% is done through headphones or earbuds. Even among those listening to AM/FM radio at work, 26% of listening is done through headphones or earbuds; likely in most cases from streams.
While detailing broadcast radio's challenges, the study also identifies key advantages that AM/FM radio hold in the competition at-work. Respondents depend on AM/FM radio to keep them informed if news breaks and many appreciate the connection to personalities and DJs.
Rosin encouraged attendees to emphasize those strengths, and to continue to aggressively pursue at-work listening.
The full presentation is available at http://www.edisonresearch.com/home/archives/2013/09/whats-working-at-work-newresearch- on-workplace-radio-listening.php